A coffee table is an important aspect of the living room, which makes knowing how to decorate a round coffee table very important. It could be a relaxation spot or that perfect place for keeping up with your amazing show. With this said, you must pay a lot of attention to the aesthetics of your table. A well-designed coffee table makes the home look very attractive and gives it that warm feeling at all times.
A great coffee set-up needs not to be complex or filled with too many items. Knowing what to include on the table and how to include it in the best and simplest way is very important. By styling a coffee table properly, you prevent it from getting cluttered and make it easy for everyone to reach out to items on the coffee table.
In this article, you will learn how to style a round table, how to style an oval coffee table, and how to decorate a small round end table through very simple guides and tips. This article will also help you to achieve a simple, beautiful, and professional table. Here, you will be exposed to practical aesthetics where you learn what is required to get the job done yourself and how to go about it.
This article is divided into two major parts for ease of understanding and application. In the first part, you will learn about the things that are required to decorate a round coffee table. In the second part, you will learn how to put these things together in the simplest possible way to achieve an amazing round coffee table.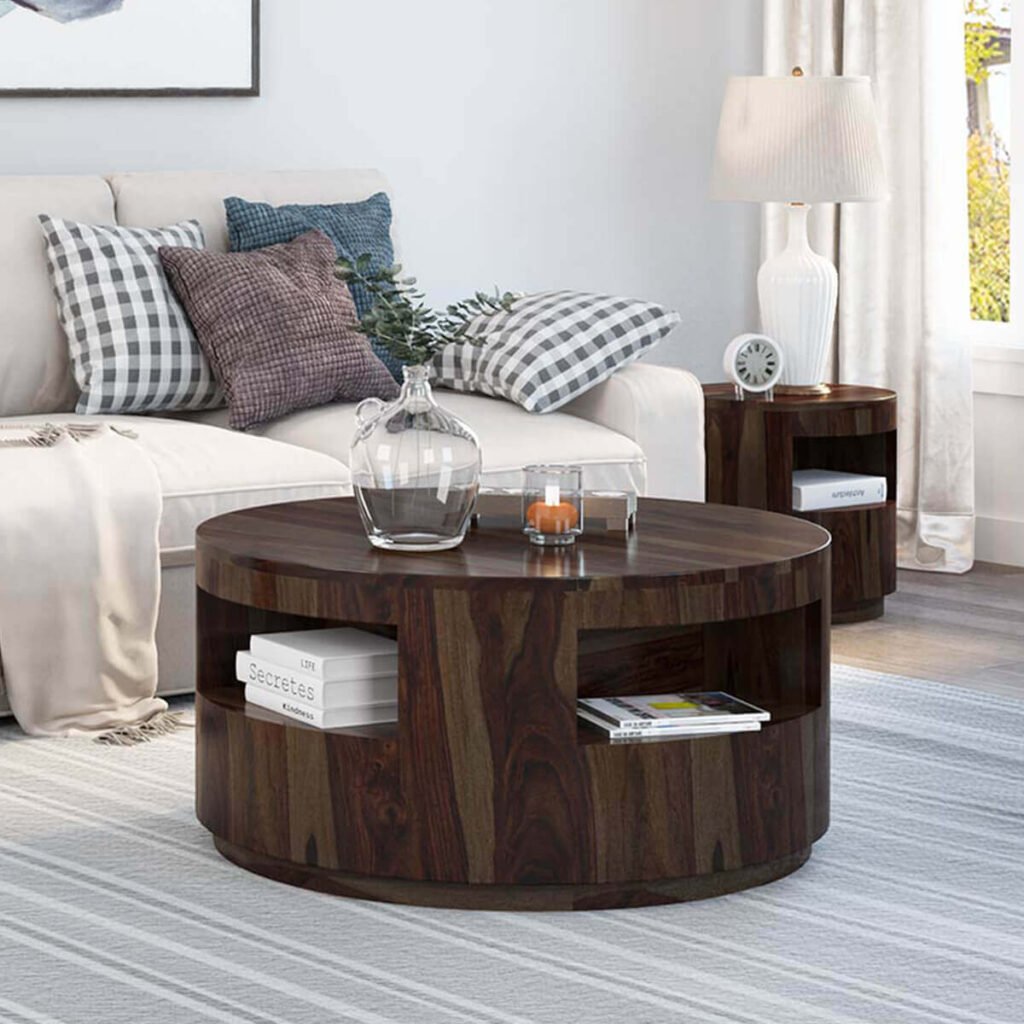 Things Required For Styling a Coffee Table
How do you get started on your coffee table styling journey? The first and most important step is to get the right coffee table items. Getting the right items is necessary for achieving the best results. A pro designer always knows what item to use, how to use it, and where to use it. So, quickly, let's examine some of the major coffee table accessories needed to style your round table.
Flowers make anything come to life, including the coffee table. You need botanical plants/flowers with colors that match the aesthetic of the living room or the furniture. You can either go for botanical plants or flowers and, if possible, both. The issue with choosing botanical plants is, some people are allergic to them. If you are one of those people, you can consider going for faux flowers. If the right faux flowers are selected, they can enhance the look of the coffee table.
These flowers also do not require a high cost of maintenance and do not need regular replacement. Vary the colors of the botanical plants/flowers to provide relief from time to time, and you're closer to achieving a professional table.
Books and magazines are needed on the table to express your interests and desires. Coffee table books and magazines are great when they come with cover pages that have colors matching with those on the table.
These books or magazines should be properly arranged with the largest beneath and the smallest on top in that order. The thing about having books and magazines on coffee tables is that they can go on to spark up conversations when you share the table with someone of similar interest.
Are you looking to light up the room or add some vibe to it? Then you need to get some nice looking candles and well-designed vignettes. Candles add visual appeal to the table provided they fit into the aesthetic of the table. When the right candles are chosen, they not only improve the look of the rounded table but that of the sitting room as well.
Decorative elements, when chosen rightly, express your personality and adds a vibe to the table. These objects could include souvenirs, mugs, and paintings from places you have been to or people that you love. Though these elements highlight your personality, they can spark up conversations with others when you entertain visitors.
Round or Rectangular Trays
Trays needed for styling a round coffee table could be round or rectangular. With well-designed trays, you can prevent the table from looking cluttered. These trays help you to group coffee table ornaments quickly and identify them when they are needed.
Trays also help to save space on the coffee table. To enhance the aesthetics of the table, trays should be well-designed and fashionable. Visitors always love it when they are served on trays, but they feel better when it is an amazing one.
How to Put These Items Together
It is not enough to have the coffee table items provided above. You must know how to combine them well to create an amazing round table. Here, we shall be running through the steps involved in getting these things right and attaining perfection like a pro.
Tray + Flowers + Décor Elements
Now, you must have gotten your trays – round and rectangular, flowers – botanical plants or faux flowers, and décor items. These items must be rightly selected with regards to color and size to fit the look of the living room. Warm colors communicate relief and, as such, are better options to brighter colors.
Divide the Area into Parts
When the right items are available based on your preference, the next step is to divide the area into parts. Partitioning the area makes it easy to identify what goes where and this prevents the table from being clustered. Dividing the area also makes it possible for you and guests to identify decorative items that could spark up conversations.
Stack Books and Decorative Elements
When areas have been divided into parts and labeled for specific purposes, go on to begin stacking books and décor elements into these areas. Arrange items carefully and intelligently to improve the look of the table and add to the aesthetic of the room.
Books and items not needed should be removed from the table to allow for more space. Always make sure to have the table updated from time to time to reflect your preference and personality as they change.
Ensure Every Item is Well-balanced
Balance is key to excellence when it comes to knowing how to style a round table like a pro. Balance every element and item on the table based on how you want it to look. Items that are not needed should be replaced with items that are needed. This balancing of items extends to the color option and size.
For coffee table books, the smaller ones should be placed in front of the larger ones for better organization.
To Wrap It Up
You do not need the services of a third party to decorate a coffee table provided you have the right coffee table décor ideas – DIY. The right ideas with the right coffee table items and knowing how to go about arranging it helps you come up with a professional coffee table.
With the items and tips that have been provided above, you can convert that table in your living room into a very attractive, memory-making coffee table. This article can also be helpful for you if you are decorating a glass coffee table.
Written by Aditi Gautam