Blush pink is a soft color that looks good on various interior set up. It can be used as an accent color or as the primary color for a room, depending on how it is used. Blush pinks are often paired with neutral colors such as white, black, browns, grays, and gold to create a feminine and romantic decor scheme for bedroom spaces. One of the most common misconceptions about pink is that it is exclusively for girls. However, anybody can paint their bedrooms in this color. A blush pink bedroom is a great choice for anyone looking to create an intimate space in their home. If you're looking for a color scheme that's romantic and inviting, blush pink might be a perfect choice. It's soft enough to feel feminine without being too colorful or sweet, so it can suit any taste. It can also match many different colors and styles of furniture, which means you can really customize it to your space.
Pale shades of pink are a popular option for decorating a bedroom. They offer plenty of opportunities for adding contrast with other colors and textures while still remaining light enough to work as the focal point in the room.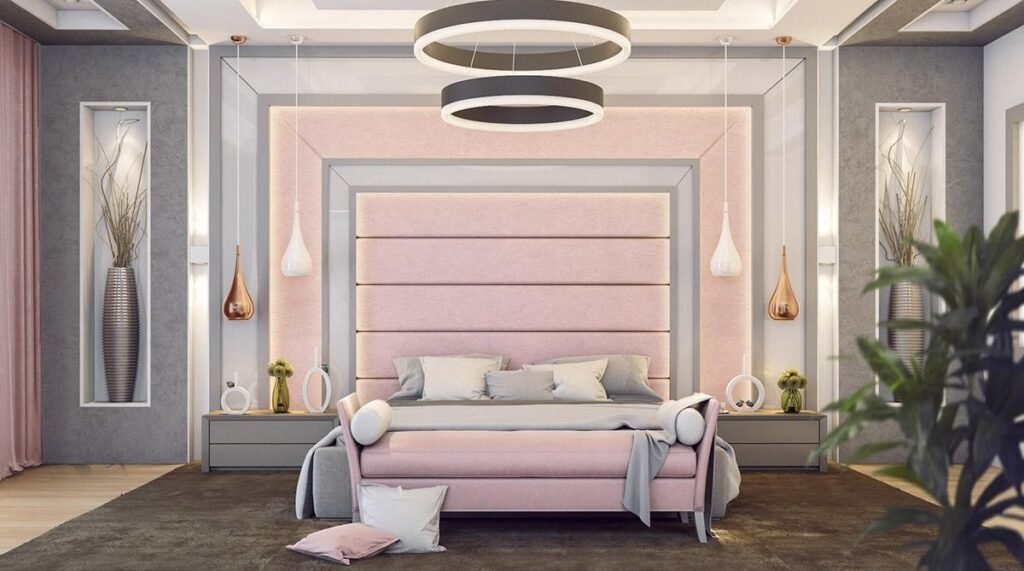 2. There are plenty of ways you can make your bedroom a little brighter. You could paint the walls pink or light gray and add some complementary decor. If you like a more monochromatic look, then you could paint the walls with shades of pink and add some gray curtains to tie it together.
3. You can paint the focus wall with two colors. Plus keep the furniture light and airy to make the bedroom more contemporary.
4. Create a stunning modern blush pink bedroom by adding a modern artwork on a paneled wall with back led lights. Add pieces of light pink furniture to create a cohesive look.
5. Create a bright yet balanced combination of blush pink and blue in your bedroom. Yellow, brown and pale pink décor elements comes together perfectly in this boho bedroom décor.
6. Experiment with blush pink and black and white furnishing. It will create a sense of peace and minimalism to your bedroom.
7. Boho chic is the style that is trending globally in the present times. Create a bohemian-inspired look by adding a rattan bed, cane baskets, a golden side table and some green plants. Go with white curtains and a complimentary pink area rug to complete the look.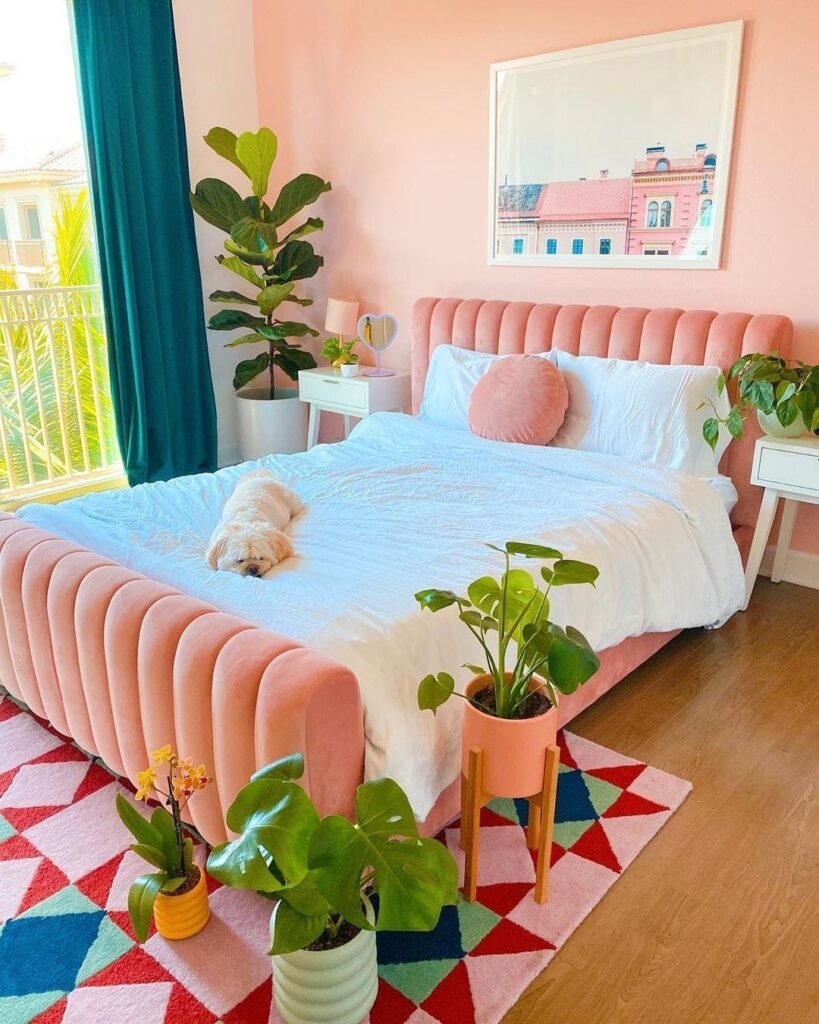 8. Blush pink can be used to create a gorgeous feminine space. A blush pink tufted bed with white linens combining with modern artwork will give the space the required luxury look. Don't forget to add green plants and contrasting teal curtains to make the space a glamorous one.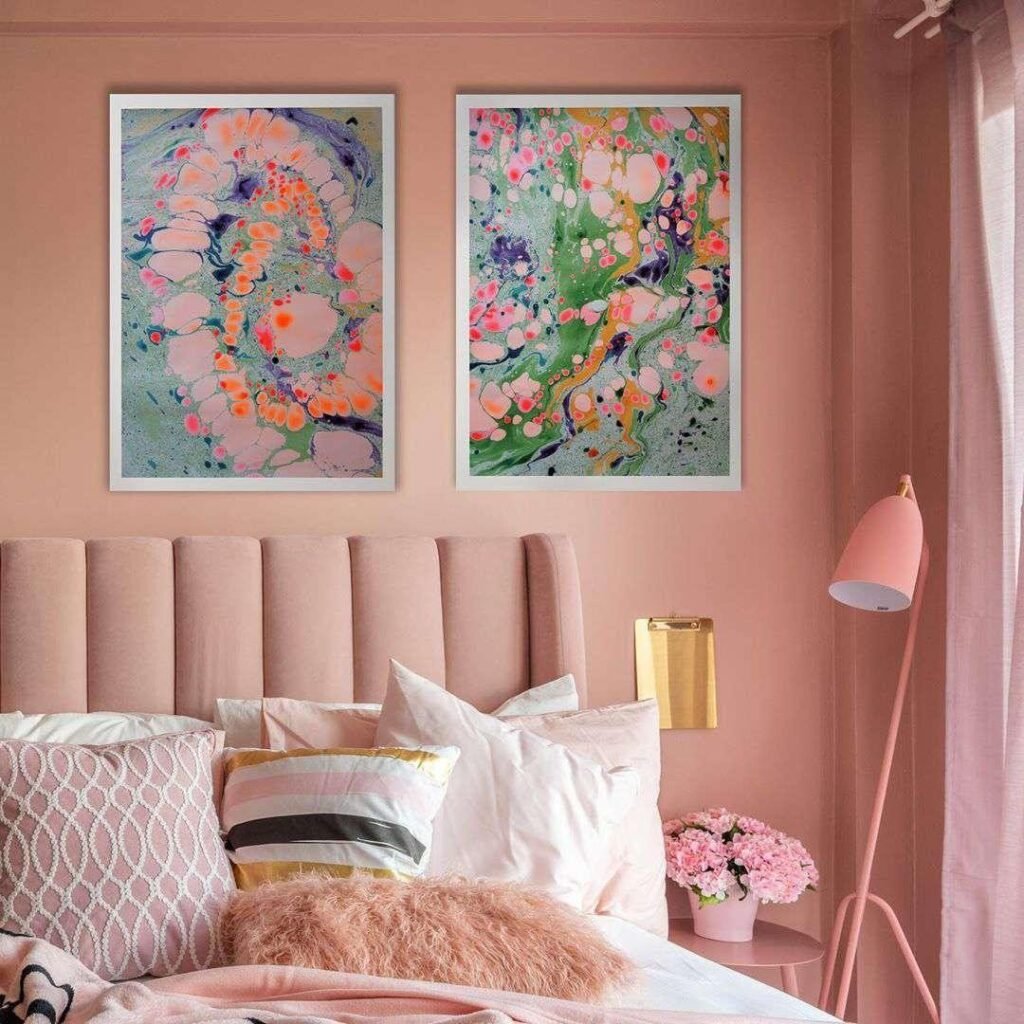 9. Go all blush pink including the wall, bed headboard, furniture, décor and lighting to create a sense of calm and peace. Keep the artwork in contrasting color to give some depth to the bedroom.
10. Blush pink and white is an excellent combination to create a feminine space. A tufted pink headboard with texture wallpaper in between two symmetric wall shelves will give the bedroom required storage with the look of glamour. Include designer blush pink furniture to complement the look.
Wrapping it up – Blush pink is a new age color that can be incorporated in multiple ways when it comes to designing a bedroom. It is very important to select a color scheme before planning the overall look. Blush pink color can create both bright and subtle looks when combined with contrasting and complementary colors respectively.
Written by Aditi Gautam