Ever think of how it would feel to hold your baby girl or boy in your hands after nine months of pregnancy? It's a sweet, beautiful feeling that courses through all expecting parents around the world. Whether it's your first child or not, the thrill never wears out. However, parents also have to face the task of preparing a nursery for their unborn baby, and that is where it gets tricky. It is important to choose simple and lovely designs that make the room beautiful and also have a positive effect on your baby.
Colors go a long way to affect your child's thinking and growth, so we made sure to help you get the best nursery ideas and nursery paint ideas that would suit your child best.
Every color has a message and effect on a baby, so it is important to pick the right color combination. Parents also make a nursery monotone for safety purposes, but a nursery doesn't have to bland to be safe. With the right colors combination, furniture, and objects, we help create the best childhood memories ever for your child.
Find here, 15 nursery paint color ideas for your princes and princesses.
1.
This color speaks to both genders as cool, cozy, and soothing. Pink and shades of brown help relax your child and fill your home with fewer cries and more laughter. A baby room painting is not a bad idea, especially when using a color like brown, which gives a fresh look to the nursery.
Brown is a natural color, like the color of sand, or a reminder of the beach, your toddler is sure to notice the several differences in this picture as they grow.
2.
This room is set in playful hues, simplicity, and class. Blue and white never go out as one of the best colors for nursery.
The white chair by the wall also fits in if you're planning to spend a lot of time with your baby. It serves as a reminder to your toddler that you care and will always be available for him/her.
3.
Are you looking for a fresh baby room paint? Well, this should be perfect for you. Green is a natural, positive color that embraces both boys and girls.
The design also employs lighter hues and a mix of white, to pass the message of warmth and positivity. Anyone that enters this nursery would be drawn to the white cradle in it.
4.
Employing sharp contrasts in colors is also a good thing when you want to raise a smart child positively. The child starts off his scholarly life by noticing the difference and beauty in this design, and his curiosities are also piqued.
5.
Want to raise the artist? This color combination mixes different odds to create a warm, natural blend. The cabinet color stands out against the blend, and your baby wouldn't definitely notice this when they begin to crawl.
6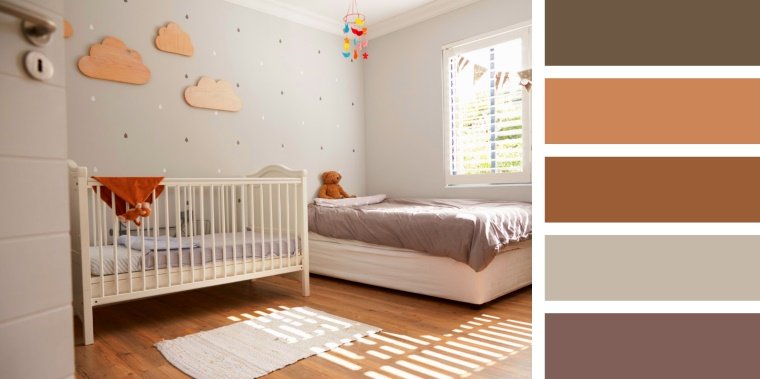 Nursery paint ideas like this look simple and comfortable. Also, plain colors like grey end up being the best nursery paint colors. The color of this flooring attracts the child and aids crawling.
This setting is simple and fun, an all-time favorite for rooms that double as the nursery. The spotting and cloud colors are also not lost on the visitors, who would appreciate the world you put together for your baby.
7.
Are you expecting a princess? She loves this shade of pink already. This is so cute and nice. The spots and triangles will catch her attention, as will the green teddy.
Nursery paint ideas like this help to highlight things for your princess and keep her from bumping into hard objects.
8.
These colors are just right for your cute little bundle of joy. This color embraces variety and richness of choices to beautify your baby's nursery.
This room also uses neutral colors with natural tones and gives off the warm vibe for your child. Find peace and rest here as you play with your baby and host your guests too.
9
Fancy a bit of all? This room looks adorable because of its blend of comfort, warmth, and coolness. With a noticeable door and flooring, every other color shines through in this design.
Using different shades of the same color also turn out beautiful, when used in the right mix—another option made available for your daughter or son.
Pink paints are also adorable when housing a boy, depending on the richness and dynamics. This is proof that with nursery ideas like pink, you can never go wrong.
10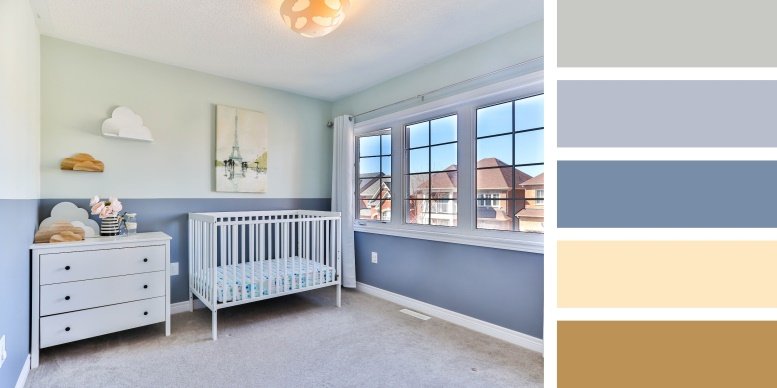 An adorable color set for prince charming; this is a step beyond stereotypical. Nursery ideas like this work for you, if you like to shake things up a bit beyond the usual but still keep context.
This baby room painting embraces the monotone and coolness of the blue and goes a step further to involve other colors to the mix to create the right amount of perfect for your son.
11.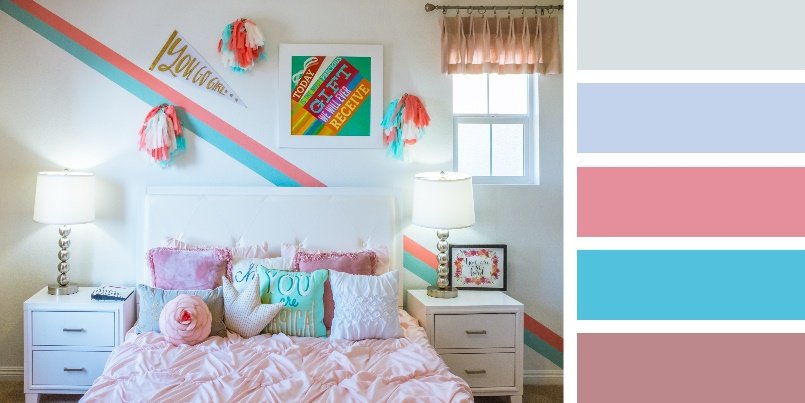 Splash of colors like this are among the rarest nursery ideas, but sky blue, peach, and light brown are always right on the mark. Blue and pink have proven to accommodate a wide range of spices for nursery room ideas.
This is also not restricted to gender. The pink appeals to both genders, likewise the blue. This color mixture is positive and therapeutic as well; even the visitors are going to love this.
12.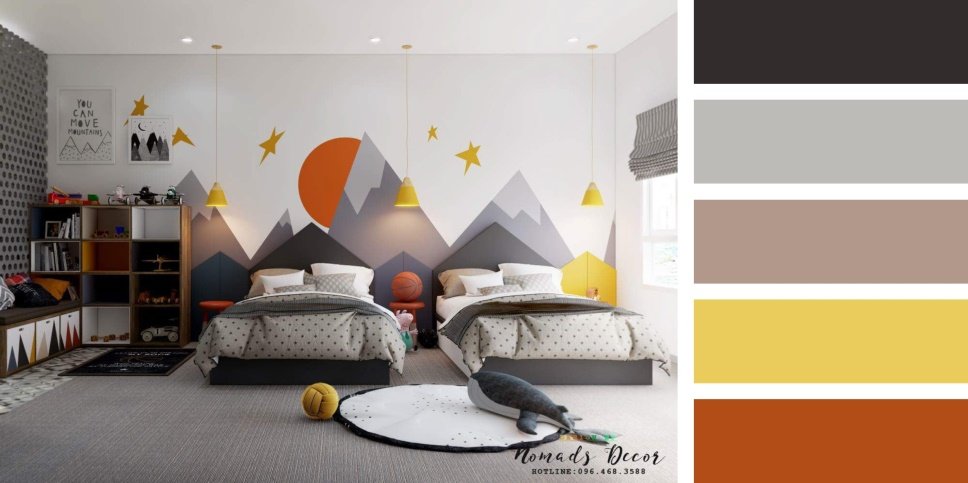 Are you expecting twins? Or are you planning to accommodate two babies in a nursery? Then this is just for you. The Baby room painting here is a volcano, without the spitting and burning.
Think of how this would inspire your child and help their creativity. After all, a child sees what you want him/her to see. This nursery idea not only awakens the creator in your child but has the power to keep them staring and caught up, buying you time to yourself for rests in between.
13.
Are you planning on exploring dark and neutral hues? Maybe something a bit unconventional? You can try this out for your baby room paint. It goes without saying that light colors are lovely colors for nursery.
The grey cushion is also considered if you want to blend in and go unnoticed by your sleeping baby.
14.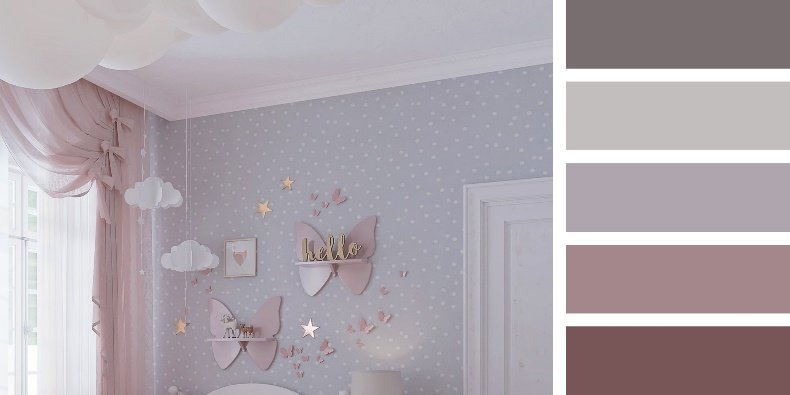 This nursery looks lovely, with the cute butterfly fixtures on the wall. A painting can feature gloss, satin, or even material properties, as shown here.
This baby room also uses darker and earthier shades of colors, making every child comfortable and adorable. Nursery paint ideas like this bring out the positive and bring laughter to the scene.
15.
All things bright and beautiful, all colors great and small, all objects strong and wonderful, fits in a baby room. This design is the busiest ever, but the use of solid and neutral colors, helps increase the smartness level of your baby.
Nursery paint ideas like this are timeless and also work for when you are merging the bedroom and nursery. It helps save more money and still appeal to your child. This baby room paint is also unisex.
Wrapping It Up
Your color choice, mixture, and design play an active role in the thoughts, words, actions, and future of your baby. You can choose to go warm, fuzzy, cool, light, or even dark nursery ideas. It goes a long way in deciding what color they get comfortable in when they grow older.
Choosing bright colors can be very helpful when your child begins to grow and notices differences. Take your time and make the best decision from our array of choices.